Homeopathy Treatment For Allergy
Homeopathy is another common natural treatment for Allergies – one of the more gentle forms of treatment – that is most likely to relief allergy related health problems or symptoms, food intolerances and sensitivities. Contact Us For Homeopathy Treatment For Allergy
Contact Us
Book Appointment
Homeopathic Remedies for Allergies
When you are suffering from allergies, sometimes trying something new is better than suffering. Alternative Allergy Treatments can relieve if not eliminate allergy-like symptoms. Even though it is likely that symptoms initially get worse when starting treatment, which according to homeopathic theory is a desired 'crisis' on the healing path – indicating that the remedies work. However, homeopathy appears to have no side effects whatsoever. Homeopathy Treatment For Allergy
Homeopathy Treatments Services
Dr Geeta's Homoeopathy Health Restoration Centre
Homeopathic remedies helpful to people with allergies
Homeopathy Treatment For Allergy
Homeopathy Treatment For Allergy :
This remedy is useful for people who are highly sensitive to many foods and substances and respond to them by feeling restless, ill, and exhausted. Asthma and digestive disorders (such as vomiting and diarrhea) are common reactions. Burning sensations relieved by warmth and thirst for frequent small sips of water can also suggest this remedy. A person who needs Arsenicum tends toward strong anxiety and may have excessive concern over neatness, details, and order.
Homeopathy Treatment For Allergy 2 :
This remedy often helps with fatigue, gas, and digestive problems common to individuals with food sensitivities. Digestive troubles with gas and heartburn are common, especially after eating wheat or dairy products. Swollen lymph nodes and tonsils, head sweats during sleep, shortness of breath from exertion, back pain, dizziness, nightmares, and strong cravings for sweets are often seen. Individuals who need this remedy are sometimes oversensitive to aspirin.
My grand mother is taking treatment from Dr Geeta Pawar, for oral cancer from past one year and we are happy with the treatment received. Homeopathy is managing cancer of my grandmother. Due to her age and other disease conditions we have choose homeopathy for her as it has no side effects. I recommend Dr Geeta Pawar for Cancer treatment.
omkar Prajapati
2022-01-07
Visited for immunity issues and joint pain, good doctor, Listens carefully about all your problems, Thanks to her I am returning to my normal routine
Dr Geeta is the best in diagnosing the issue of patient. I am saying it by my wife' s experience. She has larynx tumour . ENT DR has suggested surgery but there was risk of voice loss. So we thought to give chance for homeopathy with Dr. Geeta Pawar. She has given treatment for six months. Today endoscopy report is normal and there is no tumour. Thanx Dr for giving to my wife such a treatment.
Prashant Ovhal
2021-10-20
Diksha Malusare
2021-10-19
Pratiksha Chandane
2021-10-19
Homeopathy Doctor in Pune
Dr Geeta Pawar
MD ( Homeo ) Head Homeopath
Dr Sharmila Gujar
MD Homeopathy Homeopathy Consultant Pimple Saudagar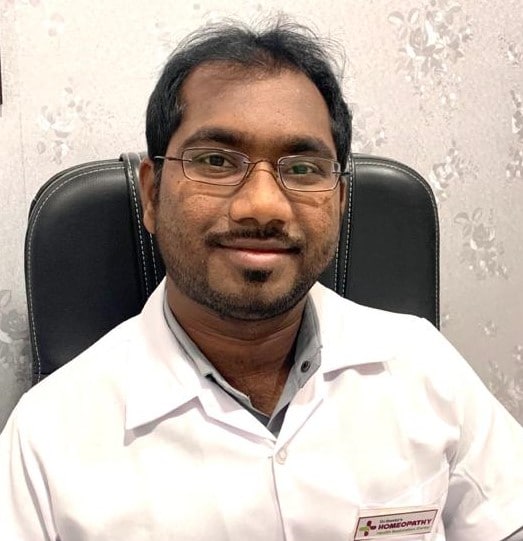 Dr Hanuman Parande
BHMS, Assistant Homeopath
Dr Deepali Bhosale
BHMS, Assistant Homeopath
Kaniz shaikh
Front Desk Admin
Homeopathy Treatment For Allergy
Dr Geetas Homeopathy Health Restoration Center
Multi-Specialty Homeopathic Clinic