Homeopathy Treatment For Diabetes
Homeopathy is an alternative medical system. It's also called homeopathic medicine. Homeopathy is based on the idea that a condition can be treated with a diluted amount of a natural substance that's been shown to cause symptoms of the disease in healthy people. This is the homeopathic principle of "like cures like."
There are many homeopathic remedies available for treating the symptoms of diabetes. But keep in mind that homeopathy isn't recommended by health agencies as a treatment for diabetes or its symptoms. Homeopathy Treatment For Diabetes
Contact Us
Book Appointment
Best Homeopathy Treatment For Diabetes
How homeopathy can help treat diabetes.?
Homeopathy is an elective clinical practice. The fundamental target of homeopathy, while treating a diabetic individual is to treat the general strength of an individual. This is on the grounds that diabetes isn't simply limited to the circulation system yet it likewise influences various pieces of the body and organs also. Regular side effects of an individual experiencing the issue of diabetes are as per the following:
– hunger
– weariness – unreasonable thirst
– over the top pee
– dry mouth
– skin wounds
– hazy vision
– Dr. Geeta's Homeopathy Clinic Viman Nagar – Pimple Saudgar
Discussing the symptoms of the drugs when taken with allopathy,  that as both the medicines work for various causes (allopathy to control diabetes and homeopathy to control the results), they don't have any counter impact.
Homeopathy Treatments Services
Dr Geeta's Homoeopathy Health Restoration Centre
Homeopathic remedies for diabetes-related symptoms
Homeopathic remedies are made from minerals, plants, or animals. They're considered "all natural."
Homeopathic principles state that when a substance is diluted, it increases its therapeutic strength. The natural substance is diluted to the point where the remedy contains only trace amounts of the substance. It can then be formulated as:
sugar pellets
ointments
drops
creams
tablets
My grand mother is taking treatment from Dr Geeta Pawar, for oral cancer from past one year and we are happy with the treatment received. Homeopathy is managing cancer of my grandmother. Due to her age and other disease conditions we have choose homeopathy for her as it has no side effects. I recommend Dr Geeta Pawar for Cancer treatment.
omkar Prajapati
2022-01-07
Visited for immunity issues and joint pain, good doctor, Listens carefully about all your problems, Thanks to her I am returning to my normal routine
Dr Geeta is the best in diagnosing the issue of patient. I am saying it by my wife' s experience. She has larynx tumour . ENT DR has suggested surgery but there was risk of voice loss. So we thought to give chance for homeopathy with Dr. Geeta Pawar. She has given treatment for six months. Today endoscopy report is normal and there is no tumour. Thanx Dr for giving to my wife such a treatment.
Prashant Ovhal
2021-10-20
Diksha Malusare
2021-10-19
Pratiksha Chandane
2021-10-19
Homeopathy Doctor in Pune
Dr Geeta Pawar
MD ( Homeo ) Head Homeopath
Dr Sharmila Gujar
MD Homeopathy Homeopathy Consultant Pimple Saudagar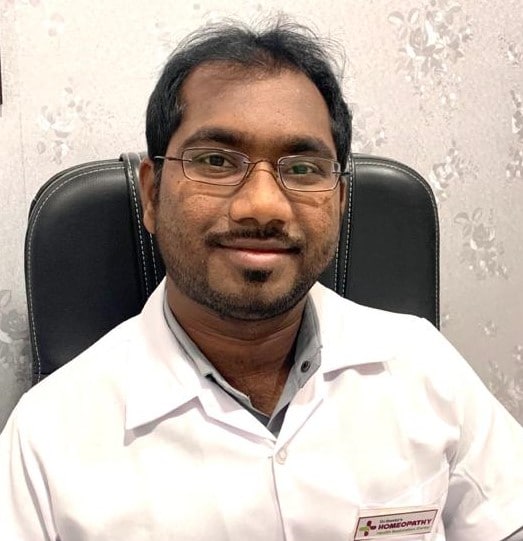 Dr Hanuman Parande
BHMS, Assistant Homeopath
Dr Deepali Bhosale
BHMS, Assistant Homeopath
Kaniz shaikh
Front Desk Admin
Dr Geeta's Health Testoration Center
Multi-Specialty Homeopathic Clinic
Viman Nagar – Pimple Saudgar