Homeopathy Treatment For Fibromyalgia
Homeopathy is very effective in the treatment of Fibromyalgia. It helps greatly in relieving the body aches and pains and all the symptoms associated with Fibromyalgia.
Homeopathic treatment for Fibromyalgia provides a holistic healing and its medicines help to strengthen the immune system. This helps to fight the disease from its roots and ensures that the disease does not occur again.
Contact Us
Book Appointment
Homeopathy Treatment For Fibromyalgia
Homeopathic treatment of Fibromyalgia ensures that the patients become healthy in all aspects of life, i.e. mind, body and soul assuring them a happy, sound and a balanced life
Homeopathy is a much safer and better mode of treatment. It is very gentle in its approach and the medicines are very convenient and easy to administer. Homeopathic treatment of Fibromyalgia is safe even in children and pregnant women.
– Dr. Geeta's Homeopathy Clinic Viman Nagar – Pimple Saudgar
Have a look at some of the remedies used for homeopathic treatment of Fibromyalgia. The treatment given by our Experts is highly specific for the individual we treat and not limited to 2 or 3 drugs. Homeopathic treatment of Fibromyalgia offers a minimum of 25 remedies effective against Fibromyalgia.
Homeopathy Treatments Services
Dr Geeta's Homoeopathy Health Restoration Centre
Pain in various parts of the body including muscles and joints is one of
the chief symptoms of Fibromyalgia
Body parts very sensitive to touch and painful on pressure
Tender points on the body along with other symptoms of Fibromyalgia
Chronic fatigue
Morning stiffness
Tingling and numbness of the hands and legs
Sleep disturbances
Gastro-intestinal and urinary disturbances
Chronic headaches
Painful periods
My grand mother is taking treatment from Dr Geeta Pawar, for oral cancer from past one year and we are happy with the treatment received. Homeopathy is managing cancer of my grandmother. Due to her age and other disease conditions we have choose homeopathy for her as it has no side effects. I recommend Dr Geeta Pawar for Cancer treatment.
omkar Prajapati
2022-01-07
Visited for immunity issues and joint pain, good doctor, Listens carefully about all your problems, Thanks to her I am returning to my normal routine
Dr Geeta is the best in diagnosing the issue of patient. I am saying it by my wife' s experience. She has larynx tumour . ENT DR has suggested surgery but there was risk of voice loss. So we thought to give chance for homeopathy with Dr. Geeta Pawar. She has given treatment for six months. Today endoscopy report is normal and there is no tumour. Thanx Dr for giving to my wife such a treatment.
Prashant Ovhal
2021-10-20
Diksha Malusare
2021-10-19
Pratiksha Chandane
2021-10-19
Homeopathy Doctor in Pune
Dr Geeta Pawar
MD ( Homeo ) Head Homeopath
Dr Sharmila Gujar
MD Homeopathy Homeopathy Consultant Pimple Saudagar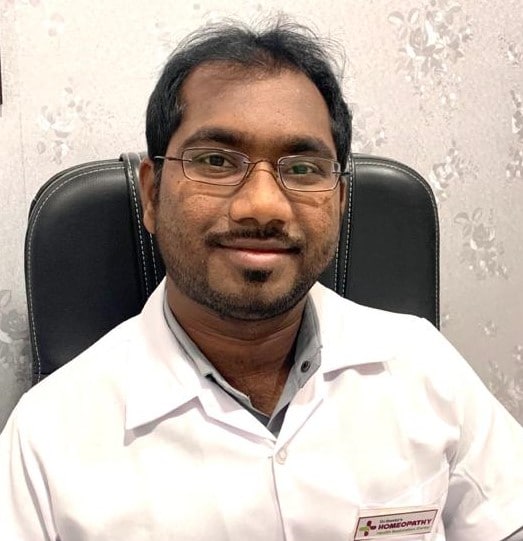 Dr Hanuman Parande
BHMS, Assistant Homeopath
Dr Deepali Bhosale
BHMS, Assistant Homeopath
Kaniz shaikh
Front Desk Admin
Dr Geeta's Health Testoration Center
Multi-Specialty Homeopathic Clinic
Viman Nagar – Pimple Saudgar