Homeopathy Treatment For Asthma
Alopecia areata is thought to be an autoimmune disease. The immune system makes white blood cells (lymphocytes) and antibodies to protect against foreign objects such as bacteria, viruses, and other germs. In autoimmune disease, the immune system mistakes part or parts of the body as foreign. In people with alopecia areata, many white blood cells gather around the affected hair roots (hair follicles) which are mistaken as foreign. This causes some mild inflammation which leads in some way to hairs becoming weak and falling out to cause the bald patches. Possible triggers include: viruses, infection, long use of antibiotics or other environmental factors.
Contact Us
Book Appointment
Homeopathy Treatment For Alopecia Areata
The characteristic finding of alopecia areata is a well-circumscribed area or areas of normal hairless skin in an area of normal hair growth. Occasionally, it may be necessary to biopsy the scalp to support the diagnosis. Other findings that may be helpful are the appearance of short hairs that presumably represent fractured hairs, yellow areas of skin deposition at the follicular orifice, short thin hairs, and grey hair all present in a bald area.
Homeopathy Treatments Services
Dr Geeta's Homoeopathy Health Restoration Centre
How Homeopathy helps to cure Alopecia?
Homeopathy works wonderfully for all the cases of alopecia areata. Homeopathy does not work if there is scarring on the affected areas. Homeopathy addresses underlying autoimmune disease process while treating Alopecia Areata so the results are long lasting and of course, the treatment is free from any adverse effects. Homeo medicines treatment can help the hair re-grow more quickly. When hair re-grows, it can be white or fine at first. A person's own hair color and texture often return later. Usually women after child birth or during approach of menopause time massive hair fall result from hormonal changes. Any hormonal treatment in those cases will not give the satisfactory results. But well selected homeopathy medicines in this case not only cure the hair loss problem but also be helpful to cure all other associated problems.
My grand mother is taking treatment from Dr Geeta Pawar, for oral cancer from past one year and we are happy with the treatment received. Homeopathy is managing cancer of my grandmother. Due to her age and other disease conditions we have choose homeopathy for her as it has no side effects. I recommend Dr Geeta Pawar for Cancer treatment.
omkar Prajapati
2022-01-07
Visited for immunity issues and joint pain, good doctor, Listens carefully about all your problems, Thanks to her I am returning to my normal routine
Dr Geeta is the best in diagnosing the issue of patient. I am saying it by my wife' s experience. She has larynx tumour . ENT DR has suggested surgery but there was risk of voice loss. So we thought to give chance for homeopathy with Dr. Geeta Pawar. She has given treatment for six months. Today endoscopy report is normal and there is no tumour. Thanx Dr for giving to my wife such a treatment.
Prashant Ovhal
2021-10-20
Diksha Malusare
2021-10-19
Pratiksha Chandane
2021-10-19
Homeopathy Doctor in Pune
Dr Geeta Pawar
MD ( Homeo ) Head Homeopath
Dr Sharmila Gujar
MD Homeopathy Homeopathy Consultant Pimple Saudagar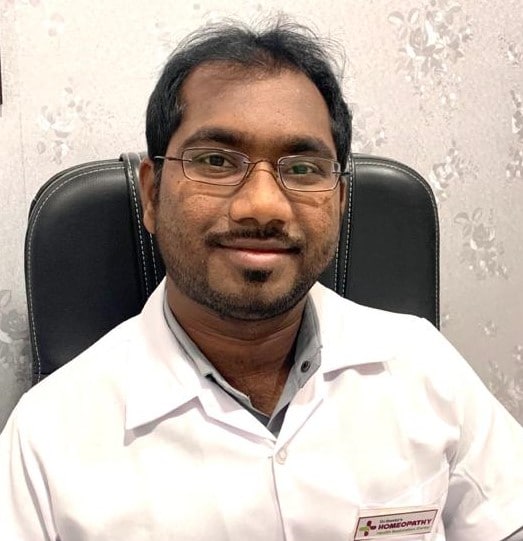 Dr Hanuman Parande
BHMS, Assistant Homeopath
Dr Deepali Bhosale
BHMS, Assistant Homeopath
Kaniz shaikh
Front Desk Admin
Health Testoration Center
Multi-Specialty Homeopathic Clinic